Webinar
Event Sponsor: Calfee, Halter & Griswold LLP
Recent years have seen significant changes in attitudes and corresponding legal developments in the arena of data privacy, including legislation recognizing individual rights and corresponding obligations surrounding collection and use of personally identifying information. In turn, these have driven substantial changes in business practices as well as personal behavior. Large-scale events and crises that make identifying, locating and associating individuals with relevant risk factors critical to public welfare – like the Coronavirus pandemic – now appear to challenge the nascent data privacy legal regime. This webinar considers how interests of personal privacy and public welfare may intersect and examines how a prominent current initiative on contact tracing – the Apple-Google Exposure Notification System (AGENS) – is designed to reconcile them.
Calfee attorneys Dan McMullen (Partner, Intellectual Property practice group and Leader of the Information Technology Law practice) and Billy Raulerson (Vice Chair, Intellectual Property practice group) held a lively and informative exchange on whether and how AGENS may help us to exit the Coronavirus lockdown "through the App Store."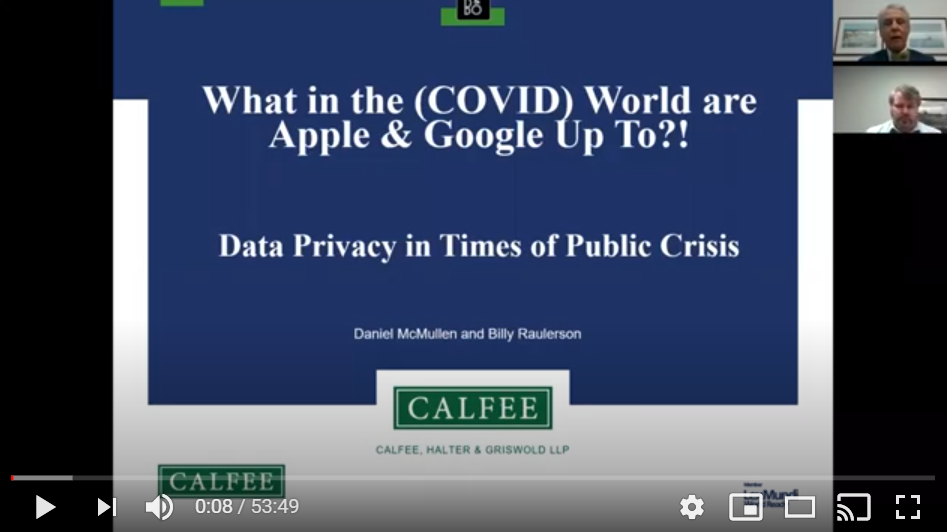 Watch the full webinar recording.
PDF
Professionals
Practices/Industries