PDF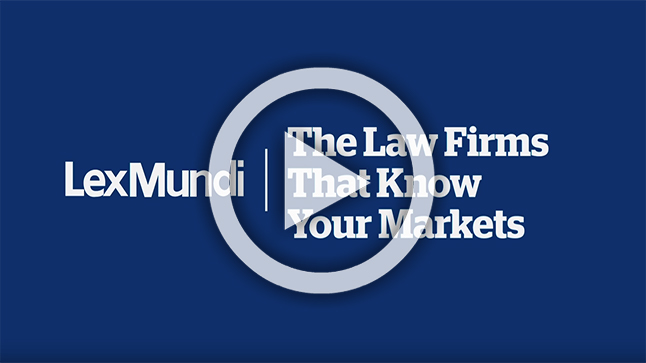 Since 1989, Calfee has been the exclusive member firm in Ohio for Lex Mundi – the world's leading network of independent law firms with in-depth experience in more than 125 countries worldwide.
Lex Mundi brings the best together – law firms, lawyers, and business professionals – to provide world-class cross-border legal solutions. Member firms offer a global resource of unmatched breadth and depth, with over 22,000 lawyers worldwide.
Lex Mundi selects the top independent law firm in each jurisdiction based on leadership in, and commitment to, its local market and requires its members to maintain this level of excellence to retain membership.
Lex Mundi ensures that member firms collaborate closely to provide on-the-ground expertise and experience in every global market, wherever their clients need to operate. Coupled with innovation, collaborative software, clients receive a seamless worldwide service from Lex Mundi member firms, able to handle their most challenging cross-border transactions and disputes.
Lex Mundi Equisphere™ is a smarter way of working on complex cross-border matters. The unique service allows you to create your ideal international legal team, tailored to your specific geographical footprint, delivering consistently high quality and on-the-ground expertise and connections from Lex Mundi's unmatched global network – over 150 of the world's best independent law firms.
Lex Mundi Equisphere provides clear oversight and live reporting of multiple budgets, deadlines, and deliverables through a user-friendly, customized online dashboard enhanced with built-in AI tools. It supports Lex Mundi's worldwide network of lawyers with a smart, centralized approach to engagement, scoping, management, and feedback.
All of this is delivered easily and conveniently through one point of contact. Learn more at lexmundi.com/equisphere.
We are proud to be a founding member of this leading organization to extend our national and global reach and that of our clients since 1989.
To learn more about Calfee's membership in Lex Mundi and how it can benefit your business, please contact Jennifer L. Vergilii, Firm Vice Chair and Co-Chair of Calfee's Corporate and Finance practice group.