PDF
A career at Calfee means many things: opportunities, growth, excitement, colleagues, and community. As individuals, we bring to the table a wide range of talents, backgrounds and experiences. Yet, what ultimately unites us is our passion to serve our clients and help them make sound business decisions.
Our attorneys and administrative staff unite across practice areas and offices to work together in a collaborative, collegial and entrepreneurial environment. At Calfee, you'll have the opportunity to do your best work.
Compensation and Benefits
We are committed to hiring and retaining the best talent, which is why we offer a competitive benefits package that includes health, dental and vision insurance plans, HSA, FSA, retirement plans, life insurance, disability insurance, commuter benefits and ample vacation or PTO time.
Calfee also provides a variety of other benefits to help employees better manage their work and personal lives. We offer wellness services including personal health coaching, an onsite fitness center (with daily yoga and fitness classes) in our Cleveland office and fitness club reimbursements for our other offices. We also offer an employee assistance program to help employees and their families when life challenges arise.
We understand the importance of work-life integration for our employees. Whether it's for planned commitments or unexpected life events, we offer flexibility to our attorneys and staff so they can shift priorities and focus as needed. Calfee invests in mobile and remote technology to reiterate this commitment.
At Calfee, you'll have the opportunity to do your best work.


---

In collaboration with City Visitor Communications, Calfee's Northeast Ohio Relocation Guide provides a wealth of information for those interested in the area but are unfamiliar with the local amenities.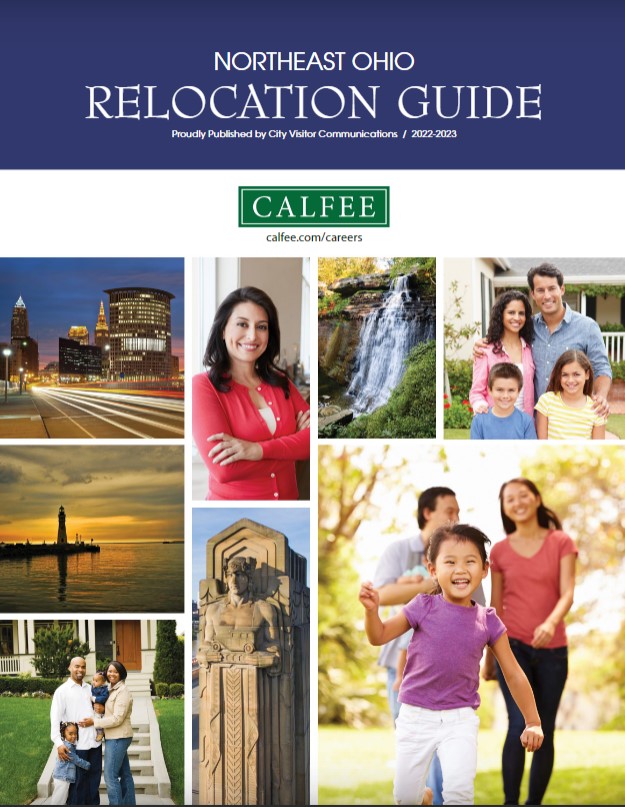 Being part of Calfee is being part of a team. People here work together.
Kate Davis, Professional Recruiting Coordinator