PDF
Our Commitment
Calfee is dedicated to supporting an inclusive culture in age, gender, gender identity and expression, religion, race, ethnicity, sexual orientation, physical abilities, marital and civil union status, military and veteran standing, socioeconomic background, and familial status. This equitable and inclusive work environment makes Calfee a great place to work and enhances our ability to provide exceptional client service.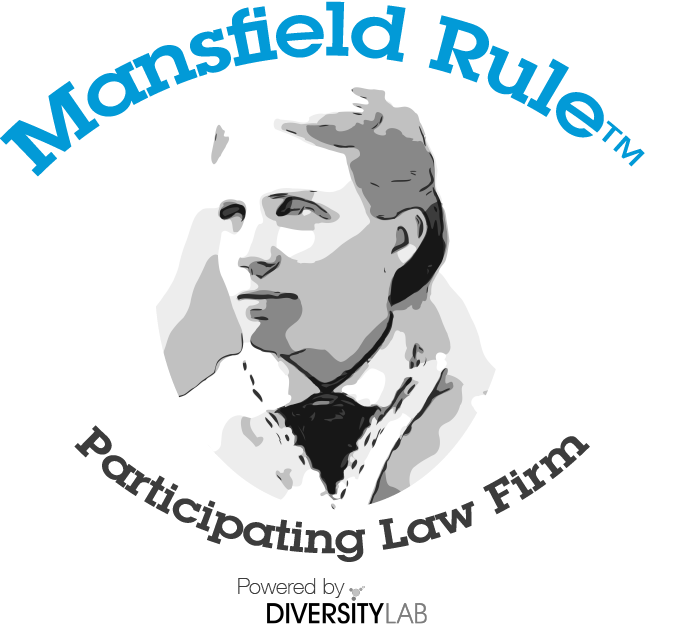 Calfee is participating in the Mansfield Rule 5.0 Certification process, which launched on July 15, 2021. The goal of the Mansfield Rule is to increase the representation of historically underrepresented attorneys and leaders in law firms in the U.S., Canada and the UK. In its fifth year, the Mansfield Rule, developed by The Diversity Lab, has become the standard by which law firms track and measure that they have affirmatively considered at least 30% women, lawyers from underrepresented racial/ethnic groups, LGBTQ+ lawyers and lawyers with disabilities for top leadership roles, senior-level lateral hiring, promotions into the equity partnership, and participation in client pitch meetings.
Our commitment to valuing and supporting diversity as a critical cultural element in attracting and retaining talent and supporting business and industry growth expands beyond our firm. Calfee is a member of the Leadership Council on Legal Diversity (LCLD), an organization of more than 300 corporate chief legal officers and law firm managing partners working to build a more open and diverse legal profession.
Additionally, Calfee is a founding member of Cleveland's Gender Equity in the Legal Industry (GELI) Forum, which is a collaboration of Cleveland law firms committed to identifying and addressing gender inequities at private law firms.
As of 2018, we are proud to have joined Ohio Business Competes, a non-partisan coalition of businesses committed to achieving non-discrimination policies at the state level.
---
Calfee's Sponsorship Program Launches in 2022
Sponsorship differs from Calfee's mentoring program. Sponsorship is predicated on a more formal, structured relationship. While mentoring is intended to help provide our attorneys with the tools that they will need for their professional and career development, sponsorship is intended to actively help an attorney use those tools. Sponsorship should help create opportunities and eliminate obstacles in using these tools.
The sponsor and the candidate will meet initially to assess strengths and development opportunities, and they will work cooperatively to create an advancement plan with measurable goals. Regular progress checks and mutual accountability are built into the program. Throughout the process, both parties will be expected to contribute to the relationship and actively engage in the sponsorship process. The program is designed to work toward the development needed for long-term career advancement, and both parties will work to identify experiences and opportunities to aid in that process.
Sponsors, who are currently all members of Calfee's Management Committee, will participate in a training session and commit to active participation in the program.
While participation in the Sponsorship program is not a guarantee of career advancement, promotions or placement into specific roles for participants, our goal is that this program will provide for a more equitable career journey and support the advancement goals of those participating in the program.
---
Leadership Council on Legal Diversity – Leader's Pledge 2022
In 2022, Calfee participated in the Leadership Council on Legal Diversity (LCLD) Leader's Pledge initiative. Joining fellow LCLD corporate and law firm members, Calfee's Managing Partner, Brent D. Ballard, developed and submitted an individual and firm pledge articulating his personal commitment to diversity and specifying specific, meaningful and measurable organizational changes that support Calfee's pursuit of diversity, equity and inclusion at the firm and across the legal industry.
---
Calfee's Diversity, Equity & Inclusion Strategic Overview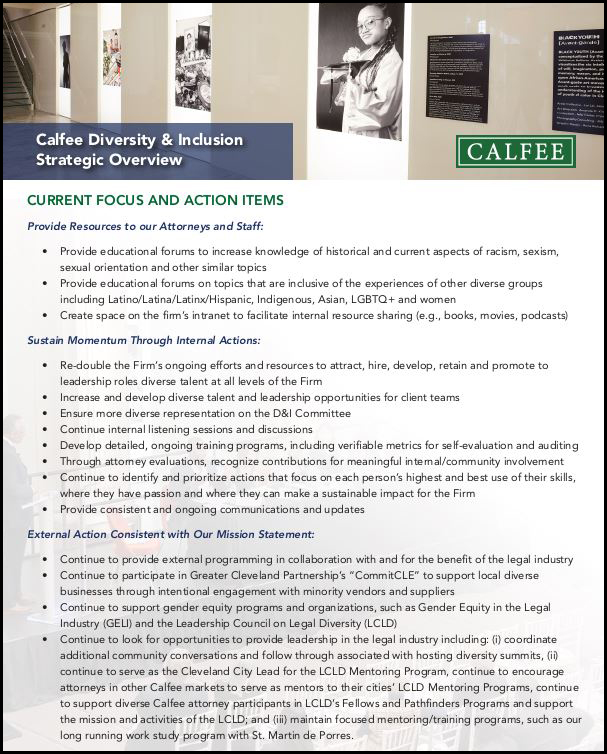 Calfee's Diversity, Equity & Inclusion Committee developed a strategic plan and overview to help guide its efforts and communicate its work with Calfee attorneys, staff members, clients and friends of the firm.
In mid-2020, the Committee held small group listening sessions for all Calfee employees discussing race, diversity and equality in the workplace. During these sessions, employees were asked to provide candid feedback on the current status of diversity at Calfee, ideas and thoughts for improvement, and ways to increase transparency in diversity, equity and inclusion initiatives.
Following the small group sessions, the Committee reviewed all of the feedback received and then created the strategic overview, which provides information on the group's current focus and action items, action items completed within the last year, and a listing of Calfee's ongoing sponsorships and programs.
Read the full Strategic DEI Plan here.
In January 2021, Calfee's Diversity, Equity & Inclusion Committee developed an internal DEI Update to the Firm, detailing actions taken in 2020 and the action steps planned for 2021. If you would like to review the 2021 DEI Update, please contact your Calfee attorney or the Diversity, Equity & Inclusion Committee Chair, Kim Moses.
---
Calfee's Statement and Action Plans to Support Racial Justice, Equity and Inclusion
On June 1, 2020, Calfee's Managing Partner, Brent D. Ballard, shared the following "Reflections After a Weekend of Unrest" with all attorneys and staff:
I write this note to you today as I attempt to put into perspective the protests that transpired in Minneapolis, Cleveland, Columbus, Cincinnati, New York, Indianapolis, Washington and other cities across this country, as well as a concern for the damage that's been done to some of our cities as an unfortunate aftermath of those legitimate protests. I cannot express strongly enough my feelings of anger and frustration at the clear actions of racial injustice that led to the protests. While I can't fully understand the impact from the perspective of those who have personally experienced racism, discrimination, and oppression, I know that injustices and such acts of violence have no place in our society.
And I know that at Calfee we have the opportunity and responsibility to invoke change. We have offices and colleagues in communities that have been hit hard by these events. We are of different races, genders, backgrounds and personal views, and we are better for it. At Calfee, we are dedicated to supporting an inclusive culture, including with respect to race and ethnicity. We value every member of our firm and can be a place that sets an example for the power of inclusion, equity and justice.
It is likely that we will be living in a period of unrest and uncertainty, both economic and with respect to societal tensions and rightful demands for change, for some time to come. At times like this we need to appreciate each other more than ever, check in on each other, listen to and respect each other, and be kind to each other. Please let me know of any further thoughts or suggestions you have after you digest this.
Know that I appreciate and value each of you, please be safe.
– Brent D. Ballard
In June, Calfee's Diversity, Equity & Inclusion Committee, in collaboration with our diversity and inclusion consultant, Dr. Ellen Burts-Cooper, launched a series of internal, small-group "Listening Sessions" facilitated by a member of the DEI Committee and open to all attorneys and staff. The purpose of these sessions was to provide a trusted circle for attorneys and staff to share feelings and suggestions, discuss the recent racial injustices and resulting protests, and to listen to and learn from each other. These discussions were intended, in part, to also help inform the DEI Committee's next steps to continue to support social and racial justice, equity and inclusion at our firm, in our communities and in the legal industry.
While the specific discussions were confidential to each small group, the facilitator captured common themes and questions that the groups approved for sharing with the DEI Committee members. The Committee met to discuss the common themes, questions and suggestions, and used that information to develop an action plan, the implementation of which has been the focus for Committee and sub-committee work in 2020.
For additional information on Calfee's diversity, equity and inclusion activities and commitments, please contact our DEI Committee Chair, Kimberly Moses.