Calfee NOW Episode 9 With Cleveland City Councilman Kerry McCormack
On Episode 9 of Calfee NOW, Raymond Tarasuck, Senior Counsel with Calfee's Government Relations & Legislation practice group, spoke with Cleveland City Councilman Kerry McCormack (Ward 3).
Topics Discussed Included:
A detailed breakdown of each area Councilman McCormack represents: Tremont, Ohio City, The Stockyards, and Downtown.
Councilman McCormack's role as Chair of the Health and Human Services Committee and the important work he is doing.
The importance of working with grassroots organizations and neighborhood leaders in order to get the message out about taking the COVID-19 vaccine.
How much potential Cleveland and Northeast Ohio have and how the region can be even better coming out of the COVID-19 pandemic by focusing on health, job growth and reducing poverty.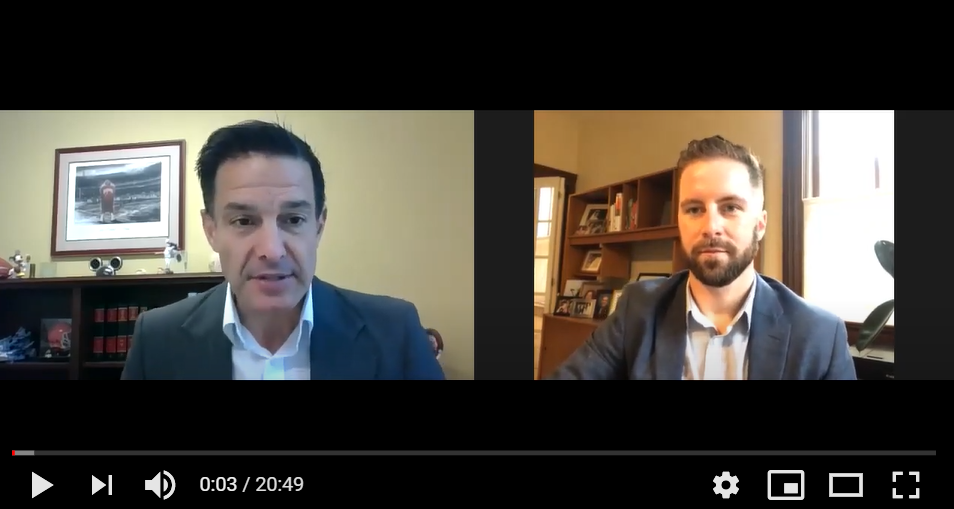 ---

Video Transcript


Ray Tarasuck:
Well, I'd like to welcome everybody to the next edition of Calfee NOW. And our guest today is Councilman Kerry McCormack, the third ward of Cleveland City council. Councilman Kerry McCormack, welcome.
Kerry McCormack:
Good morning, Ray.
Ray Tarasuck:
For those of you who may not know, Councilman McCormack represents probably one of the most diverse wards in the neighborhood... In Downtown, I'm sorry. Contains Downtown neighborhood, Tremont, Ohio City, the Stockyards. He is also a very, very busy person on council. He is the chair of the city's Health & Human Services Committee, and also serves on finance, development, planning, and utilities. So thank you for taking the time to be with us this morning and go over some things that are really affecting everybody in the city of Cleveland and all the surrounding areas too. So thank you again, Councilman.
Kerry McCormack:
Thank you for having me, Ray.
Ray Tarasuck:
Let's just kind of go around the horn and all the neighborhoods that you represent and talk a little bit about some of the real exciting things that are going on. I think we're kind of aware of some of the challenges but let's talk about some of the real exciting things that are going on in all these neighborhoods, and let's start with one of my favorite places, Tremont.
Kerry McCormack:
Yeah, absolutely. Well, again, Ray, thank you for having me on. And I'll say I've got a really dynamic ward being Downtown in the near West side, and it's really a great place to represent because I've got really unique neighborhoods in the city of Cleveland. They all have their own identity, but they're also interconnected. Tremont is no exception to that by any means. It is a incredible vibrant neighborhood based in arts and culinary scene and culture. And it has a long, interesting history that kind of stretches the story of the city of Cleveland when it comes to immigration, when it comes industrialization. And you can see that today in Tremont, even in some of the more recent updates like the Towpath, which we'll chat about in a second.
Kerry McCormack:
But again, this is a neighborhood that has a long history and it's got everything from beautiful Victorian homes to workers cottages that were built to house folks that were working in the steel mills. Over the years it has gained a very well earned reputation for being a thriving place for arts, art galleries, culture, music, dance. I mean, the way that Lincoln Park is programmed in the summer is second to none from an arts and cultural perspective. And then you layer on top of that, the food scene in Tremont, which again has some of the best restaurants in Northeast Ohio there. And then, in addition to that, I think the secret sauce to all of it, Ray, is that we have such a dynamic and committed group of residents in Tremont that take personal responsibility over the wellbeing of the neighborhood. And that over the decades has really led it to where it is today.
Ray Tarasuck:
Yeah, it really is an amazing, amazing neighborhood in the Cleveland area. Another really up and coming area, seen a lot of development recently. And is again, very diverse, right? A very diverse part of your ward, is Ohio City. And let's talk about some of the really cool things, exciting things that are going on in Ohio City.
Kerry McCormack:
Yeah, sure. So Ohio City, which has a really interesting history as well, it was actually a city before the city of Cleveland was. So it was a separate entity from the city of Cleveland to be annexed by the city in 1854, a really interesting place that was founded by the Connecticut Western Reserve. So it's got these alleyway systems and streets that if you're driving around the neighborhood, you might think, "Oh, this isn't intuitive," but it was built that way based off of an East Coast model. That's why you'll see the brick alleyways in the neighborhood and the historic homes and treasures like the West Side Market, St. Ignatius' campus and otherwise. So another beautiful historic neighborhood. It is on the national register of historic places, the large part of the neighborhood. And it's a fascinating neighborhood.
Kerry McCormack:
Similar to Tremont, it has seen the story of Cleveland. So the immigration story, the ups and downs, and more recently has seen a tremendous amount of investment, both in bricks and mortar, but also in human capital. So for example, we've seen a big housing growth in Ohio City, but we've also seen a huge increase in our locally owned small businesses that have opened their doors in the Ohio City neighborhood. And at the same time, in 2012, we launched a recreation league with 67 kids playing Tee-ball, Ray. And now we have 1200 children across the entire near West side. They're participating in the Near West Rec league. So, it's not just about the great progress we're making in housing or small business. It's about that human interaction. And we're seeing that happen in our near West side neighbors, including Ohio City.
Ray Tarasuck:
Another neighborhood that really doesn't get discussed a lot is the Stockyards. And I know that there's a lot of really, really exciting things happening in that area. Why don't you discuss a little bit about that?
Kerry McCormack:
So Stockyards, it's one of my favorite neighborhoods and I'll just say that the folks that live in Stockyards are so committed to the neighborhood and down to earth. And I love walking the streets of Stockyards and knocking on doors and talking to people and really, Ray, what's interesting about it is it's right in the center part of a ton of investment going on right now in the city of Cleveland. You've got MetroHealth investing a billion dollars in the Clark-Fulton area, you've got Ohio City just North, Tremont as well. And so what is really exciting about Stockyards is not only that we have this legacy of residents who have been in the neighborhood for a long time, who care about the neighborhood, who have fought for the neighborhood, but also we're going through a master planning process in the Stockyards, Clark-Fulton neighborhood, because we know what's coming down the line. We know that investment will be coming into the neighborhood.
Kerry McCormack:
And so what we're doing is creating a inclusive community-based visioning process for the neighborhood, so that when that investment comes, it's on the terms of our neighborhood residents, which is really exciting. So great group of people. It's also, Ray, the largest population of Hispanic folks in the state of Ohio reside in the greater Clark-Fulton, Stockyards, Brooklyn center area. So the incredible culture that started largely so in the sixties to today. We still see folks coming to the area from not only Puerto Rico, which is our biggest pipeline of folks, but from other parts of central and South America, choosing to come to Stockyards.
Kerry McCormack:
I'll say a couple of other things, Ray, which are really exciting to me. Number one is the small business growth. So we're seeing more and more community-based small businesses open. One of the great examples of that is a business incubator called [foreign language 00:00:06:56] which translates to The Little Stores. And that is a business incubator that is... There's a coffee shop, there's a place of pastries, all sorts of different amenities that are opening up. In addition to that, one of the really exciting parts of Stockyards is the Newcomer's Academy, which is a CMSD school specifically tailored for newcomers to the United States who may be learning English, may be trying to learn a new culture. And that school is geared around getting them assimilated into Cleveland and not to damper it all the culture, but to get them on their feet when they get here in Cleveland.
Kerry McCormack:
And I think that's important, Ray, in a bigger picture too, because the history of Cleveland has been fueled by immigrants. I mean, my last name, Ray, we came over on the ships from Ireland. You hear, people from all different parts of the world that have come to Cleveland. And what we've see from an economic perspective is the city has been economically healthiest when we had our highest number of immigrants. So really thinking about how do we nurture that growth in a city and in a region that needs it, right? And I think that's a really interesting aspect of the Stockyards neighborhood, being home to the Newcomer's Academy.
Ray Tarasuck:
And I think the people that live in that neighborhood really take a great sense of pride in that neighborhood. So it's great to see them have a seat at the table for what that future of that neighborhood's going to be.
Kerry McCormack:
Absolutely.
Ray Tarasuck:
There's another neighborhood that I know... You're my Councilman, because I'm a part of this neighborhood that a lot of people don't see as really a neighborhood and that's the Downtown neighborhood, right? I mean, we've seen some struggles over the past... I mean, it's been a difficult year. We've seen some struggles, but there really are some really great things going on in my neighborhood, right? In the Downtown neighborhood.
Kerry McCormack:
Yeah, absolutely. Ray, I'll say that when I joined council five years ago, I spent a whole lot more time explaining to people that Downtown is a living, breathing, thriving residential neighborhood. Fast forward five years now, I spend a whole lot less time doing that, which is a good thing. So I think people are really understanding that we've got 20,000 folks that live in Downtown Cleveland. Our residents are organizing. The Downtown Cleveland Residents association is thriving. It's booming with thousands of members in it.
Kerry McCormack:
And so we're really starting to see the same kind of demands and interests of any other neighborhood bloom in Downtown Cleveland. So looking at ways that we can have more multimodal connectivity, so folks don't have to use their cars so much. How can they jump on a bike or a scooter or public transit or walk and make sure our city is designing our roads and our spaces to accommodate that. That is what it's going to make it better, easier and safer to navigate Downtown Cleveland. Thinking about the grocery stores that have come into Downtown Cleveland, thinking about the small businesses that are opening in Downtown Cleveland and thinking about how we can continue to increase the quality of life of folks in Downtown is paramount to the health and wellbeing of Downtown.
Kerry McCormack:
I think another really great thing too that we're seeing is the connectivity to other neighborhoods in and around Downtown. So right now we're looking at a loop between West 25th Street and Downtown over the Lorain-Carnegie Bridge, of a multi-modal loop where you can ride your bike, run, take a scooter or whatever it might be. The midway that will take you from public square to East 55th on a buffered bike lane. These are the types of things that are coming on line that will make it an even more desirable place, whether you're working, you're living, you're visiting, to use. It's not breaking news that you make a place more people friendly, people want to stay there, right? So, no doubt about it.
Kerry McCormack:
But yeah, I mean, as you noted earlier, Ray, there's no sugarcoating that 2020 has been a tough year for many reasons, and globally all the way down to the local level. And we've seen that in Downtown Cleveland. And we've seen that in Downtowns across the country, and we're in regular contact with our colleagues across the country on this very issue. And unfortunately, when you take a pandemic that says to the 110,000 people that come to work Downtown every day, "Hey, you got to stay at home," and you remove that foot traffic, it has an impact on the city. There's no doubt about that. The small businesses that rely on our workforce Downtown, just the positive traffic it brings when you have that economic activity has hurt Downtown for sure.
Kerry McCormack:
The thing though, I would say, Ray, is that while we've seen that impact in our Downtown neighborhood... And also too, I mean, a big reason that folks move Downtown are the amenities, right? And unfortunately, whether you live Downtown or you're visiting Downtown, you close the theaters, close the ball field, close the offices, it's going to have a negative impact. So, but moving forward, today... Ray, I don't know how this will be timestamped, but today's Monday. What's the date? The 15th or something like that? Vaccines are going into arms today. COVID vaccines are going into people's arms in Ohio today. So we're starting to see the end of this period... Beginning of the end of it, right? We're seeing the light at the end of the tunnel. And as more and more people get vaccinated and as people start to come back Downtown to work and to visit, we're going to see that economic vibrancy tick back up.
Kerry McCormack:
So, again, we're not going to sugar coat this. It's going to take some time to build back the momentum that we had in Downtown Cleveland, but we're going to get there because the inherent value of our city core is so special. And it's so incredible to experience, that we will get back to that point and better, in my opinion. Because I think people have realized how much we loved going to a ball game or going to a theater, or going to our favorite restaurant Downtown. And I think what we'll see is when we have that opportunity to return to do so, people will be doing so in large amounts. So, unfortunately we've seen some restaurants close, some great Cleveland restaurants, Ray. But we're also seeing new life. So we have Luca opening up in the Warehouse District. We've got Goma by Chef Dante opening up on East 4th. So we're also starting to see some life coming into what has been a really tough year.
Ray Tarasuck:
Yeah. I think with the resiliency of Clevelanders themselves and the people that come and live and work here, I think I agree with you, it's going to make the community even that much stronger after the challenges that we've had this past year. So you did allude to that. And you did allude to the challenges we've had and the epidemic and as we sit here today, we're coming up on the holidays. Hopefully we're making a turn into 2021, getting past and hopefully seeing the end of the tunnel. And now, as you mentioned, the vaccines are now starting to go out. And I think let's talk a little bit about that and your role as chair of the Health & Human Services Committee with the city and how that's going to be impacted going forward now, as we hopefully do turn that corner.
Kerry McCormack:
Yeah, absolutely. So, we just took over the chairmanship of the Health & Human Services Committee. I was vice-chair prior working with Councilman Griffin, taking on really important issues like lead paint poisoning, and infant mortality, and the effects that racism have on our community. And so, we're going to continue that work no doubt, but also we're going to be laser-focused too on the pandemic, as well as making sure that our health department is running top-notch and efficiently. So I think, Ray, we've got the logistical challenge of getting the vaccine, getting the amount we need, and the basic logistics of that. But we also have a challenge of working with folks to convince them that they should take the vaccine.
Kerry McCormack:
And look, I'll tell you, there's good reason for that. In American history, we've seen, especially in our communities of color, especially in our Black community, we've seen government agencies really shatter the trust of the community by things like the Tuskegee experiment and other total medical malpractice, and horrifying incidents in our history. So what we're talking about now is working with our grassroots community folks, our pastors, our community activists, our residents, public health experts and others, to get a message out there why it's important to take this vaccine. It's going to have to come from the grassroots, right? It's not going to come from a medical director. Sure, go be a part of it, but it's got to come from neighborhood residents and leaders to say, "Hey folks, you're right to be curious and skeptical, but here's why it's so important to take this safe vaccine. Here's the data. Here are the facts." So it's going to be a big blitz to make sure that we're getting the accurate information out there to folks so that they can get vaccinated, protect themselves, protect their families from the effects of this virus.
Kerry McCormack:
So, we're going to be making sure that that is happening. That message is getting out there. These vaccines are getting to people that need them in an equitable manner in the city of Cleveland. Because that's really the key. That is going to be the key when we start to think about getting folks back to work, back to restaurants, back to being able to earn a wage for their family, it's going to be getting these vaccines and that herd immunity that's achieved through the vaccines, right? So that's going to be critically important for our committee. And we're going to be tracking that through the new year.
Ray Tarasuck:
Councilman, some of our friends that are going to be watching this particular discussion that you and I are having are not only from Cleveland or Downtown or the surrounding areas, but they're also from outside of the Cleveland area, they're going to be watching us. As we wrap up this discussion, what message do you want to send? Not only to those residents of Cleveland or those people that work Downtown, but those friends of ours that are from outside of Cleveland going forward as we're moving into 2021.
Kerry McCormack:
Sure. So what I would say is, look, again, it has been a tough year for many reasons and we can just see that all around us. But, I think what is incumbent upon us as a community... And by the way, I'm a city kid, born and raised in North Collinwood, I live in Ohio City now. But what happens in the city core affects the burbs and vice versa. So I don't view this as an us versus them, those folks over there, those... As a region, we are interconnected and we've got to embrace that as a community. So, that's how I view this.
Kerry McCormack:
But really what I would say is through this really tough year, it's incumbent upon our community to think about how we can be even better coming out of this. So whether that is stepping up how you help others, supporting a nonprofit organization, helping those in your community, whether that is thinking, how do we get more strategic about job growth in our region? Population growth. We can't come out of this and say, okay, we're just going to roll back to where we were last year. It's incumbent upon this region to learn from this past year and really think creatively and collaboratively and break down silos and leave the egos at the door to say, how do we get Northeast Ohio to be better, vibrant, growing, more equitable, healthier, safer, moving into the future? Because the world is not waiting for us. I mean, we have got to think creatively and together today, so that we are building a future that's going to be healthier and safer and more prosperous moving into the future. And Ray, too, let's set big goals. Let's study population growth goal for this region. Let's set a job growth goal for this region. Let's set a goal to dramatically reduce infant mortality and poverty and violence. I mean, we've got to really think through a vision of where this region needs to be.
Kerry McCormack:
One thing you and I have discussed in the past, Ray, is that I grew up in the city but I was in Spain for a couple of years, teaching English and did a whole bunch of traveling through that opportunity. Came home broke, but worked a couple of jobs and was able to travel. And what I learned from that moving home is how much potential Cleveland and this region has and how we need to do a better job of leveraging that potential. There are areas of this... And let's just be real. There are areas of this country, Ray, that are growing and thriving at a higher level than Northeast Ohio that have half of our potential. That's unacceptable. So it's incumbent upon us to break down silos, to work together, to see our region as one. We are one region and to move our region forward for growth and for health and for prosperity. And that's going to happen if people take an extra step up to invest in their community. And I don't just mean dollars, but invest in their time and their talents as well.
Ray Tarasuck:
I couldn't agree with you more. Pre-COVID, this was a really good place to be. Post-COVID, I think this could be a really great place to be.
Kerry McCormack:
Absolutely.
Ray Tarasuck:
So, I couldn't agree with you more. Councilman Kerry McCormack, my friend, thank you very much for your time this morning. I'm not sure when this is going to air, but you and your family have a very happy and healthy 2021.
Kerry McCormack:
You too. Thank you so much, Ray.
Ray Tarasuck:
Thank you, Councilman.
Subscribe
Recent Posts
Archives