Calfee NOW Episode 8 With Senator Nickie J. Antonio 
On Episode 8 of Calfee NOW, Raymond Tarasuck, Senior Counsel with Calfee's Government Relations & Legislation practice group, spoke with Ohio State Senator Nickie J. Antonio (D - District 23).
Topics discussed included:
The makeup of District 23.
Senator Antonio's work with higher education, workers' rights, equal rights for women and the LGBTQ community, and health care.
Senator Antonio's experience working to combat the state's opioid crisis.
Where Ohio is heading politically on a statewide and local level.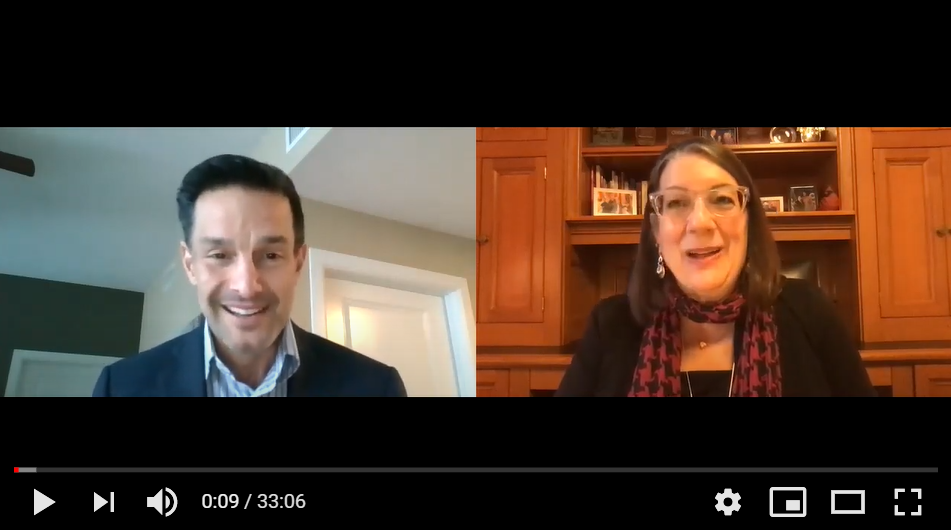 ---

Video Transcript


Ray Tarasuck:
Hi, my name is Ray Tarasuck, and I want to welcome everybody to the next edition of Calfee NOW with our special guest, Senator Nickie Antonio. Senator, welcome.
Nickie Antonio:
Well, thanks for having me, Ray. It's good to see you.
Ray Tarasuck:
Good to see you again too, as well. Senator Antonio is a Democrat from Lakewood. She is in her first term in the Ohio Senate, District 23. Prior to being in the Ohio Senate, she has spent eight years in the House, five years in leadership, serving time as a minority whip as well. In the Senate, she is on just about every committee there can be, right senator? In Health and Human Service, and Medicaid, Transportation, Commerce and Workforce, Joint Medicaid Oversight Committee, where she is the highest ranking member on those committees, as well as being on the Finance Committee and the Ways and Means Committee. Senator, once again, welcome. Thanks for taking the time out of your busy schedule. Really, really appreciate it.
Nickie Antonio:
Well, I'm happy to be here.
Ray Tarasuck:
Thank you. So let's start talking a little bit about what's going on, both from a local perspective, a statewide perspective and a national perspective on a variety of topics, okay?
Nickie Antonio:
Sure.
Ray Tarasuck:
Let's start in your home district, District 23. What exciting things are going on back in District 23?
Nickie Antonio:
Well, my district is a wonderfully diverse district. It's also very densely populated. So because it has Lakewood and Parma and Parma Heights and Middleburg Heights and kind of everything in between, the West side of Cleveland. So we have the Gordon Arts District as well. It's also a wonderfully eclectic and active kind of district. A majority of the communities have small independent businesses. There are some chains, but really as in a lot of cities across the country, those small independent businesses are the fabric of our economic stability. And what's happening right now during COVID is that they're struggling. Our bars and restaurants, our small walk-in shops. Some places have been more adaptive than others. They've been able to adapt either to online sales, curbside pickup, all kinds of things, limiting how many people come, but it's been a real challenge.
Nickie Antonio:
In the legislature, I have supported legislation calling for things like letting bars and restaurants be open their usual time, instead of limiting them to 10 o'clock. Now, some people are surprised at that, because I also have a strong public health background. But what we've found is that if we would space people out when they go out and if they were in these bigger establishments that are really designed for public gathering, we would have less gathering happening in homes right now. And right now what's happening after 10 o'clock is people are gathering in their basements and Joe's basement down the street and 30 people in there. And then what we find out is our COVID numbers go up. So we're just trying to navigate some common sense kinds of legislation. It's tough in this climate because something that should just be matter of fact, public health has become very political and that started at the top nationally, unfortunately.
Nickie Antonio:
So my communities and District 23 are no different than the communities across the country. What I feel good about is each community, they're challenged mayors, but they have strong mayors who are trying to figure this out and trying to find the best kinds of solutions for the front lines. And I really applaud the work that they're doing to come up with creative ideas, some loan programs, some forgivable loan programs, all kinds of things. We've been trying to help them as much as possible by releasing more CARES Act dollars. And that's where the coordination of representing on a state level, but then really having a district to make sure that you communicate and connect with them as well.
Nickie Antonio:
So I am confident that when we get past the first of the year, I think things will take a turn for the better. It gets worse before it gets better, the darkness before the dawn and all of that. I think that's really going to be proved to be true in our communities. But the good thing is they're strong, they've been around a long time and they have good leadership. So we just keep working with them. So that's the locals in terms of, and how it translates.
Nickie Antonio:
We, of course, are hoping that on a national level, that they release another round of supportive payments that would really help. And one of the areas I've also been trying to work as with our nonprofits, which again, throughout the district and throughout the state, our nonprofits also add to the economic base of our state. And they're really struggling right now too. And then there's the arts communities, same thing. So we're hoping that there'll be some kind of a stimulus, an additional stimulus package that I think will really help Northeast, Ohio.
Ray Tarasuck:
You talked about the leadership. I know that you've got great relationships with the leadership in the communities, in your district, and in your leadership, starting at the top with you. I think that it's a really good formula for you as a champion for your district. And in fact, I think that's where we're going to go next. Let's talk a little bit about some of those things that in your history and your career that you've been recognized as a champion for, an advocate for. Those things have been workers' rights, higher education. I know that you were the first actually in your family to graduate from college. Is that right?
Nickie Antonio:
Yes.
Ray Tarasuck:
So that's near and dear to your heart, equal rights for women and for the LGBT community, and you mentioned healthcare. And in healthcare, and particularly I think fighting against the opioid crisis that continues to plague our communities. Let's talk a little bit about each one of those. Well, on higher education right now.
Nickie Antonio:
Well, sure, sure. So one of the things that we have worked through the slash budget cycle, and then I'm hoping in 2021, when we start a new budget cycle will be to really make sure that there is a threshold for students and families, so that higher education continues to be affordable. One of the things that sounds small, but I think is a big thing that we've worked on over the years is just having students that are part of the public boards of universities and colleges be able to be voting members. Now, it sounds like a small thing, but it empowers the students. Not only do they feel like they have a voice and a seat at the table, but it actually comes with the power of a vote. And so I've been very supportive of that work over the years. We really hope it continues.
Nickie Antonio:
I've also worked on the issues around safety, on college campuses and making sure that students, again, not only have a voice, but they have a process with which to go through, should anything come up where they feel like they're not safe. And so I think that's really important because at the end of the day... The other program that Cleveland State has, and a lot of other universities across the state are starting to look at, are programs for our kids who come out of foster care and they may age out and become adults. And the college like CSU has a program that sort of wraps around them with some services so that they can continue to succeed.
Nickie Antonio:
Now, I was a kid that was allowed to live at home with my mom and not pay rent when I went to college, but I had to pay for everything. And so I appreciate so much any opportunity that students have to be able to remove barriers so they can just get that education because it made all the difference in the world for me. And I know it does for them as well. Yeah. Yeah.
Ray Tarasuck:
Oh, good. Great. And both personally and professionally, you have been a trailblazer when it comes to equal rights for women and the LGBT community as well. Well, touch a little bit on that as well, too.
Nickie Antonio:
Sure. So obviously one of the things I've worked on since I've been here... So I'm the first member of the LGBT community to be elected to the General Assembly. I started my first path when I was elected to the City Council on Lakewood, that was the first, and then went on to the legislature. I've introduced the Fairness Act, which is basically, it provides those protections for members of the LGBTQ community in housing employment and in the public sphere. And over the years, we've introduced it five times now, four in the House and once in the Senate, we've seen the bill progress, we've also seen the support for it increase. There are over a thousand businesses now that have signed on, small businesses, large businesses. We've gotten organizations like the Ohio Chamber of Commerce and the NFIB Small Business Equivalent, the Ohio Manufacturing Association, as well as a lot of other groups, labor unions are supportive, to sign on and be supporters of the bill.
Nickie Antonio:
Now we just need to get enough votes in the legislature to get it over the finish line. But I do believe we will, because what all of those entities know is that this is about the economics in the State of Ohio. If we're going to appeal to young people that want to not just come to the State of Ohio for school, we have excellent schools, but then we got to figure out a way to keep them here, provide jobs for them and opportunities for them to raise a family and continue to stay here. Right now, those barriers where members of the LGBT community are not seen as being welcome in the entire state, creates a barrier. And it's not just for the minority group that is LGBTQ. It's also for their friends, for their family, for their allies. And people under 30 don't even understand, most of them what the issue is.
Nickie Antonio:
I want Ohio to be competitive, and so this is a way to move us forward. The same can be said for women's equality, equal pay, for having benefits for family leave and things like that. All of those things we've worked on. I've worked with my colleagues on over the years. And I was really excited when I got to meet Lilly Ledbetter. She came to the State House and we got a chance to chat. And of course, that was the first bill that President Obama signed on for equal pay for women and the right to be able to know what your pay level is in comparison with other people.
Nickie Antonio:
So those kinds of things are... When I found in the legislature, is that when we talk about issues like that, and to me, because I've been sort of living and breathing this my whole life, it's a no-brainer. But I find out in talking to my colleagues, especially those across the aisle, sometimes it's a new idea. And so what we have to do is have a conversation. I feel really good about the fact that I've been able to develop relationships with people across the aisle and not people who agree with me on every little thing. In fact, some I've got great relationships with, we don't agree on a whole lot, but we have a respectful conversations and we're able to, to learn from each other because I try to listen as well.
Nickie Antonio:
So I think we've been able to move the ball forward on some things which have been really important. And sometimes it's incremental. Before I was in the legislature, I taught special ed. So I had kids who had special needs and people would always say, "Oh, you must be so patient." And I didn't think of myself as a patient person. My staff would probably not tell you I'm very patient, but you do have to have some patience for the long game. Everything we do is a marathon, there's no sprints involved in the legislature. And so it's been an interesting teacher as far as that goes. [crosstalk 00:14:06]. So I still believe that we can get the Fairness Act done before the end of the year, we're trying, we're hopeful.
Ray Tarasuck:
Well, you do have a history of being able to work across the aisle and being able to work with a lot of individuals, a lot of backgrounds and beliefs. Healthcare was a big topic during the presidential election and the opioid crisis has been and continues to be an issue that affects every aspect of our communities. I'm in a little bit, if you will, about where we are really as a state, when comes to healthcare, and what we need to do, I think really to continue... I remember back 10, 15 years ago when I was involved in drug treatment courts, the opioid crisis was a huge, huge issue at that point in time. And it's amazing to see that we've still got so much further to go.
Nickie Antonio:
Yeah, thanks for that question. So I ran an outpatient treatment program for women when I... Again, I'm like Mary Poppins, I've had all these different careers that I've done, but for about eight years, I ran an outpatient treatment program for women in Cleveland. And that experience has served me really well as we've dealt with the opioid crisis. And treatment works, people can recover. It's different and it's incredibly difficult when it's heroin or any of the opioids because they actually change the brain chemistry. And so treatment programs that are drug assisted treatment programs and all different kinds of things work for different people, that's the other thing.
Nickie Antonio:
What I've seen here at the legislature is I went from walking in the door in 2011, we were just closing the pill mills then, places where people could go get prescriptions for pills, for opioids. We really did a turnaround in a few years. We are a model state. If there's something for us to be proud of, it is that we did that work. And other States have looked to Ohio on how we dealt with all of that. But what I saw happen was as folks came in and testified, and as everything from scientists who came in and talked about brain chemistry to families that came in and talked about their children suffering with an opioid addiction. And we even traveled around the state, a group of legislators and had hearings in various cities.
Nickie Antonio:
I went to the interior in the State of Ohio, in places that I had never been before. I'll never forget going to Hardin County, it looked like the set of Andy of Mayberry. And we were at a court house and it was incredible, and these people came in and they just talked about these heartbreaking stories of family members being addicted, of businesses closing because they couldn't find workers. And just all the ways that it affected our communities. It was brought here intentionally, it was brought to the heartland. It was brought out into the far reaches of the heartland intentionally by people who just saw the ability to make more money.
Nickie Antonio:
And so now we're fighting and unfortunately with COVID overlapping the opioid epidemic, the gains that we've made, as you said, the drug courts, which are absolutely wonderful, to send someone to treatment and to tell them they're believed in by a judge. If you've ever sat in the court with Judge David Matia, it's inspirational to hear these folks and then hear them come back and talk about their journey towards healing, and towards being able to take care of themselves and their families. They get so much more out of that than putting them in jail. So there are wins we've made, but right now with the COVID epidemic, what's happened is our numbers are spiking.
Nickie Antonio:
And I think when all is said and done in the long run, people will look back and say, "Was it because of the social isolation? Were there just all these factors? So many people out of work, so many people right on the edge, struggling that maybe that pushed some people over." I don't know, we'll probably find a whole lot of reasons, but what I feel good about is that I think the legislature has... I've seen my colleagues really increase their level of understanding and ability to address these issues.
Nickie Antonio:
The fact that the State of Ohio during the last administration expanded Medicaid, what happened under that was that folks that fell into that expanded Medicaid level, actually were able to get treatment for their addictions and then get themselves physically healthy. And so there's a savings involved as well. Again, it's all connected, but it's trying to get the information to decision makers, to see the big picture. But when they see it, then we're able to make some really good changes.
Ray Tarasuck:
And as you said, it's all interconnected, in the criminal justice system, the healthcare system. And I have not met anybody... And you can see it, you can see it when you speak about it. I haven't met anybody that's been involved in recovery programs that it hasn't been life altering for them, whether they're the participants or whether they're the people that are administering like yourself, it really is life-changing on both sides.
Nickie Antonio:
Yeah, yeah. [crosstalk 00:20:22]. No, it's true. It's true. And I think the other thing that's happened with this opioid epidemic is there was a time probably in the eighties and nineties, even maybe the seventies when people assumed that it was just an urban issue. And that it only affected people of color. And the majority of the legislators in the Ohio legislature are white people. And when they started to see people that looked like them, when they started to see people who had family history and who had geography, that they shared, there was a different level of being able to be empathetic about it.
Nickie Antonio:
And I know there's a frustration, especially on the part of people from urban areas that said, "Well, why did it take them so long to get there?" It's good that they're there now. I'm sorry for the reasons why they're there now. I think it's human nature to some degree, we've been talking about the fact that there's some institutionalized racism that runs through things, but I think for every group of people, until they see people who look like them and have a life experience that's similar to theirs, they don't fully grasp the importance of an issue. And so that's why having a diverse legislature is so important as well.
Ray Tarasuck:
As we record this, we have just come out of a new presidential election. We have a new administration starting in January, and we are wrapping up what has become a very, very challenging year for everybody. As we begin on this new administration in January, wrap up this challenging year, where do you see us going both on a local and statewide level and even nationally, where do you foresee us going?
Nickie Antonio:
Sure. It's interesting because there's all these pendulum swinging back and forth when you even think about it. Ohio moved a little bit more to the conservative, a little bit more to the red, if you will, at the same time we are going to have a new administration. Joe Biden is... Really, I don't care what anybody says, he's a moderate Democrat. So we'll have a moderate Democrat in the White House who will include people that are probably further to the left than him in his administration, but the buck stops with the president. So we'll see how all that goes. But I think he's intentionally bringing in different levels of voices to be heard and certainly experiences and expertise. I think we're going to see a much more formalized. We're going to go back to what we are used to seeing from the leader of the free world and his administration in terms of diplomacy. And I think just presidential demeanor stature, behavior, that will be a lot more [crosstalk 00:23:59] formalized.
Nickie Antonio:
Then there's our new Vice President, she's going to have a lot of scrutiny because she's the first woman to hold that seat, but I'm very excited to see what she takes on. She's very strong, very smart. So that's exciting. You get a little bit of the background here of my very stately clock ln my office in the legislature. It's to kind of just give it that genuineness of being in the legislature. So I'm excited. I'm very excited about that. I'm excited about the prominence of women in leadership roles like we've never seen before. Already the cabinet that he is proposing is very exciting.
Nickie Antonio:
And we have to think about what does this mean? And a lot of times people will say, "Little girls are looking at this." And that's true, but little boys are looking at this too. And so our children are seeing the value of expertise and intelligence and work ethic that doesn't have a role of gender assigned to it. It's just, these are our leaders and our leaders can be men and they can be women, they can be white, they can be black, they can be brown. Isn't that a wonderful thing. I think that's an amazing message. That's going to come out of this administration.
Nickie Antonio:
We got to go through a time of healing, because it was a very abusive four years that we're just coming out of, as far as I'm concerned. And that's not about agree or disagree on the policies, but it's just compartment and behavior and delivery and respect for people. So I'm looking forward to a return to some respectful dialogue. My hope is very much that they will address the issue of the children from migrant families, that immigrant families that were kept at the border, separated. I hope those children are reunited. I hope for someone that's job one, to get them reunited and that we never ever do that again.
Nickie Antonio:
And then how it relates to the state in the immediate, is there going to be a stimulus package? What we hear in the news in a sound bite is, "They can't agree." But if you dig in a little bit to see why they can't agree, it's because the Democrats want the majority of the money to go to the people on the front lines, our small businesses, our communities, individuals, so that they can survive, not lose their homes, take care of their families and at least tread water until we can get through the pandemic. On the other side of the aisle, what they really want to be able to do is speak to their business partners, I believe first. Yes, indeed, they want to make sure that some of that money also goes to the local communities, but it's a lesser amount.
Nickie Antonio:
So they're fighting over the amount, how much goes to individuals, whether they're strings attached, what kind of hoops do you make individual people jump through in order to get that money, or even the small businesses, you have to spend it in a certain amount of time. We've been wrestling with them this whole past year on definitions of what's COVID related and what isn't. If you're behind and you can't make budget, you can't make budget because of COVID. Because, but for COVID you would be fine. So that's going to continue. But however that ends up and I hope they figure it out soon. That's going to make a difference in the State of Ohio.
Nickie Antonio:
I just came from a committee hearing in finance, on our funding formula for education. I'm a former teacher, again, another job I'm like a hundred years old, actually. But when I was a teacher, I decided that someday I wanted to influence public policy. Here I am. We have a proposal, and it's to finally do what people have been saying, we should be doing for the past 20 years, which is fix our funding formula. I don't know how it's going to turn out, the Cupp-Patterson Bill is the bill we have in front of us right now in finance. It's not perfect, nothing ever is, but I'm excited about the fact that it's the first real concrete proposal we've had in the 10 years I've been here. So I'm excited about that. That could make a difference in our local communities and ultimately for our kids. Right? Because we want all the kids to be able to be on that same level playing field. Yeah.
Ray Tarasuck:
Well, you have worn many hats. I know there are a lot of people that are really happy with the hat that you're wearing right now. And all those experiences I think are what have made you so successful in what you're doing right now. So thank you. And I want to take one more moment as the wrap up here, first of all, to thank you, but some parting shots, what would you like to leave our audience with? As I said, as we wrap up 2020, move on into 2021, what would you like to leave our audience with?
Nickie Antonio:
Well, I think don't hesitate to reach out to the people who represent you. A lot of times, people think that there's a whole bunch of gates they have to get through, or some people will send me messages on Messenger sometimes, I don't look at Messenger all the time. Call me or someone up... First of all, learn who your representative is, both your state representative, and then your Senator, every Senator has three House seats in their district because that's your state government, find out who your city council person is. Who's on the school board in your community? But contact us and let us know, send us an email, give us a phone call, ask to meet.
Nickie Antonio:
I will tell you that... And Ray, I think this, people will come call my office and say they want to talk to me about something, pre-COVID I would meet with them. We don't have offices like formal, because they don't give us a budget, but I would meet people at coffee shops in the district, usually independent coffee shops, because I want to support them and give them business. A lot of times I'm introducing people to new coffee shops they didn't know. And we meet for a half hour or an hour. To me, that's a part of what we should be doing. We should be accessible. And so don't hesitate to reach out.
Nickie Antonio:
The other thing I'll say is, for better or for worse, I got in this, I didn't expect to be doing this in my life. I thought I was going to be a teacher my whole life, but I got in this because I heard myself say one day, "Somebody should explain to those people what this is really all about." It was about city council at the time. And I said, "They don't have a clue on what it's like to be me. I could do that job." And then I went, "Oh, I could do that job." So the other thing is, and if it's not do this job, it's definitely don't just complain, figure out a way to either connect with the decision makers or the policymakers and let them know what's on your mind or what idea you have. I will tell you that some legislation that I have introduced and passed was brought to me by somebody in the community who said, "I don't know whether you know, but here's a problem and I have a suggestion for a solution." And it became law. So don't hesitate to do that either. Just reach out to us. We should not ever have barriers around us and not be accessible. So I guess [crosstalk 00:32:54].
Ray Tarasuck:
You have always been very accessible. You've always been a very good friend and I thank you very, very much for your time today senator.
Nickie Antonio:
Thanks Ray. It's good to see you.
Ray Tarasuck:
Good to see you.
Subscribe
Recent Posts
Archives