Calfee NOW Episode 14 With Ohio State Representative Thomas West
On Episode 14 of Calfee NOW, Michael Bowen, Associate with Calfee's Government Relations and Legislation practice group spoke with Ohio State Representative and President of the Ohio Legislative Black Caucus, Thomas West (D - District 49).
Topics discussed included:
What encouraged him to get into politics.
District 49 and its strengths and weaknesses.
What he hopes to accomplish during his term as President of the Ohio Legislative Black Caucus.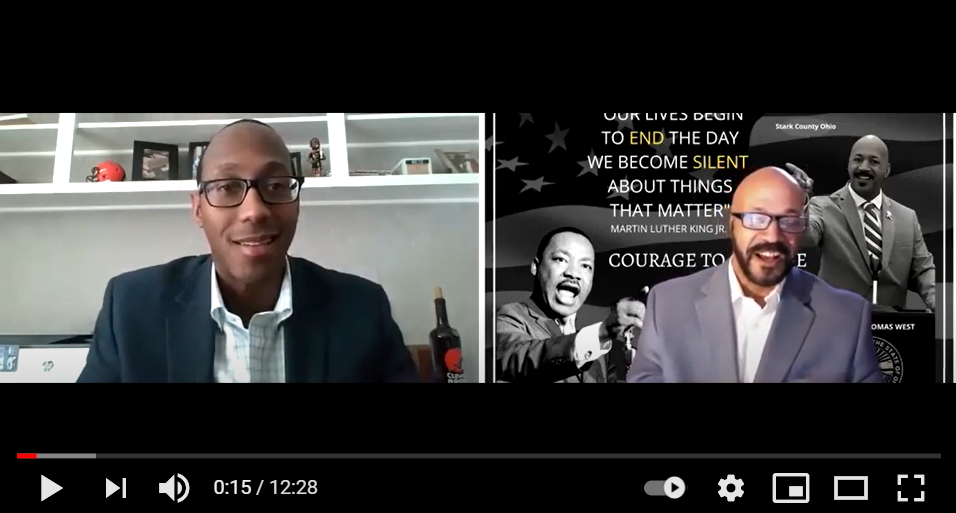 ---

Video Transcript


Michael Bowen:
All right. So, we are here for another edition of Calfee NOW. Today, we have my good friend, state representative, Thomas West, and the new recently elected president of the Ohio Legislative Black Caucus. How are you doing representative West?
Thomas West:
All right. I'm too blessed to be stressed. You know how we do.
Michael Bowen:
I appreciate your time today. We'll get right into it. So, what made you run for office and be one of those crazy folks who decided you wanted to be a public servant in the elected capacity?
Thomas West:
Yeah. There's so much to that. Let me first thank you for having this event. Again, it's so necessary to let people in our communities know about the work that you're doing at the state house, as well as the work that we're doing. So, thank you for shedding the light on just a little bit of what we're doing. I first got into politics... Well, let me first go back. I've been as a social worker in our communities for about 25 years. I worked in a myriad of agencies. Working with individuals from birth, to actually death in a large different capacities. From, actually serving direct service, to advocacy, to linkages and making things happen in that field. And then, actually to administrative and I owned my own agency and things of that nature. So, it was like a natural progression, going from social work to then going on to city council and working there for 13 years and then just propelling me up to the state level to really be able to affect people's lives in a large capacity.
Thomas West:
And that's why I went to the state level because I knew that working with individuals, families, and neighborhoods and communities is one thing, but being able to change public policy and really make a change for the masses over a larger scale, you can do that at the state level. And that's where I'm at today.
Michael Bowen:
Great. So, you mentioned [inaudible 00:01:56], so tell me a little bit about your district. What does district 49 look like, what does it encompass and some of your strengths and weaknesses and your overall day to day world in district 49?
Thomas West:
Well, you know what, I have the best district, actually, I don't know if you knew that. We live in the Pro Football Hall of Fame, Canton area. And, obviously the city of Canton has done well by me. And my district encompasses Canton and Massillon, which is of course, we are synonymous with football, right? And the battle of Massillon and the battle of Canton. So, it's always hard to navigate that, to be all honest. But I represent a tiger and a bulldog and you don't want to mess with a tiger and a bulldog. So, I enjoy representing both of those cities, but at the same time, I also have parts of the surrounding suburbs, which I have Plain, some of Navarre, Pike and Canton South, East Canton. So, I have a number of those districts as well. So, yeah, I have a great time but I enjoy being a 49ner.
Michael Bowen:
There you go. So, talk to me a little bit about, what are some of the strengths that you have in your district? I mean, you mentioned the Pro Football Hall of Fame, and you kind of touched on that, but what are some of your weaknesses in your district? Some things you are constantly fighting for at the state house to improve your district.
Thomas West:
You know what, every weakness that I see here as a weakness all across the state of Ohio. You have some that thrive and then some that don't. And, as a social worker and as a elected official, I've always been fighting for the small guy and trying to help him to achieve the same things that some of the larger people have, if you will. Access to capital, making certain that they are opening businesses, minorities have an opportunity or pathway to success, trying to get a diversity on corporate boards. And, those are just a few things that just come to mind. When I look at this pandemic that we're all experiencing and helping those individuals that don't have to navigate through the bureaucracy that exist so that they can get their healthcare needs met.
Thomas West:
So, we were able to get some dollars and through some of the departments there to help create navigators. Navigators to be able to help individuals to navigate the workspace and get back into the workforce. And some people here are unemployed and some people are underemployed. And, my goal is to try to help everyone get acclimated to that level, to where we're all successful.
Michael Bowen:
Great. So, as I mentioned earlier, you've just recently been elected, I guess that's a recent now, President of the Ohio Legislative Black Caucus, which has a long tradition of just success. And it's a very prestigious organization in state politics here. So, representative or President West, what are you looking to do for OLBC in your term as president and what are some things that both [inaudible 00:05:14] who has clients that are all over the board from technology, to education, to banking, to nonprofits, should be looking out for and what do you want to do as the next president of OLBC?
Thomas West:
Well, let me say, first of all, the Ohio Legislative Black Caucus is the oldest Black Caucus in the nation. And, obviously I'm standing on the shoulders of a lot of people who came before me, who've made major marks in our world, if you will. And I always say this, even though we're a Black Caucus, we represent everybody and we serve everyone. Okay. We just happened to focus in or zero focus in on African-Americans across the state of Ohio. Because far too often, we don't have people advocating for them. And that's why we came together and formed our union or our caucus to work on behalf of African-Americans going forward. And I'll tell you, man, we're living in a time right now where you see so much racial divide and me coming into the legislature and me now coming into the presidency, I see that divide.
Thomas West:
But I also see that there's a place where we can work together. And I believe as the OLBC president, that I can help unify our community, right? Not just the African-American community, but I believe that we can also bring both sides of [inaudible 00:06:42] together, to work together, to address some of these issues of racial injustice once and for all. So, that's one of my main things, is to try to address the issue of racism that plagues our community. We can never move forward if we don't address this issue. And Ohio have allowed that tool or that mechanism to hold us back. We will thrive when we allow African-Americans to succeed, when we allow women to succeed, when we allow all people are functioning at their fullest potential.
Thomas West:
So, I'm hoping to be able to address some of the barriers in health, some of the barriers in criminal justice reform, some of the barriers and of course, access to business and capital. There's a number of things that we want to address. And I can tell you, I can't wait till our next retreat because that's when we're going to be dealing with a lot of our priorities and then we're going to hone in and you'll be the first to know.
Michael Bowen:
Well, good. We'll bring you in for part two after that then.
Thomas West:
All right.
Michael Bowen:
So, let's shift gears a little bit to your kind of legislative role and being a legislator. We're getting ready to start 134th General Assembly very soon here. What are some of your legislative priorities moving forward and what are you looking to do in this next GA to get accomplished for Canton and frankly, the state of Ohio?
Thomas West:
Well, let me say, that's a good question. We've done so much over the years. And so much good legislation did not get to the finish line. We had two bills right at the finish line on that last day and if we would've had two more hours, they would have crossed. I think you remember that, don't you?
Michael Bowen:
I sure do.
Thomas West:
And I will tell you, one of those was the amnesty bill. Helping businesses that have failed or have had some delinquencies in taxes and things of that nature. That amnesty bill will allow them to come back and pay face value, their debts and make them whole again, so that they can start sowing back into the community. Those are our risk takers. Those are the ones that get out there every day and they're putting their own money in, they're hurting. And the government, and sometimes we have our knee on their neck or a foot on their neck.
Thomas West:
And we have to be able to be a better tool to help these individuals succeed and that bill would have helped them do that. So, we're going to introduce that right [inaudible 00:09:15]. Copay accumulator, to address people and try to help with prescription drug costs, make sure that it's affordable. You've seen some of the work I've done in the past with PBMs and some of the work that we've done to try to help people at the counter. We want to continue to press in that area as well because healthcare cost is off the charts and people can't afford it. And people should never have to be able to choose between their medication and their groceries. Right? So, those are some of the things that we're going to do off there, but police reform. We had a bill that addressed the issue of interrogations, so that all interrogations are videotaped.
Thomas West:
We need to get it right the first time. So, that's something that we're also going to bring back forward this term as well. I have a number of priorities that we plan on bringing forward. And I would just [inaudible 00:10:11] your strap down, hold onto your seat because we're bringing it this year and we'll keep bringing it until we're done at the GA.
Michael Bowen:
That's great. I appreciate that answer. So I guess, we try to keep these relatively short, digestible interviews here. So, can you just tell, real quickly Calfee, as you know, we're a full service law firm that has a pretty significant state house presence here. So, is there anything you want to tell our clients? I know representative you're familiar with some of our clients. Anything you want to wrap up and say, the floor is yours.
Thomas West:
I would say this, Calfee has been a strong supporter of me at OLBC. I love the work that you guys have done. I know you have always been at the state house, always in my ear, first of all, which is a good thing. But I would say this to all of your clientele out there, you represent them well in all their issues. And just know that, my door is open and I'll continue to work with you in trying to address the needs of Ohioans all across the state of Ohio so that we can form that perfect state. Right? Sometimes we all talk about red and blue, but to be all honest, it all comes down to red, white, and blue. And we all working together for the betterment of the United States of America. And we're all citizens. So, let's continue to prop each other up as we move forward. And again, keep the good work up, man. You're doing a good job. And, one day I'll grow up to be just like you.
Michael Bowen:
I don't know if you want that, but in all honestly, thank you, representative West for your time. Congratulations on being elected to be president OLBC. I know I can speak behalf on Calfee and our clients, as you kind of said, you've been very helpful to us and you've always been a listening ear, whether we always on the same wavelength, you've always given your time. So, we appreciate that and we look forward to working forward with you the next GA and probably many more. So, we'll talk soon.
Subscribe
Recent Posts
Archives