Calfee NOW
10.02.2020
On episode 3 of Calfee NOW, Calfee's Jack Smith (Senior Counsel) and Tim Day (Principal, Federal Government Relations) spoke with Timothy W. Deyer, M.D., Head of Musculoskeletal Interventional Procedures, East River Medical Imaging and Assistant Clinical Professor at Weill Cornell Medical College, Cornell University in New York City.
Dr. Deyer is also a founder of the company RadImageNet, which develops artificial intelligence solutions for treatment and diagnosis based on radiological image data. Dr. Deyer recently co-authored a paper in the scientific journal, Nature presenting an artificial intelligence routine that diagnosis early stage COVID-19. He discussed implementation of artificial intelligence in medicine, the peculiar problem of obtaining structured data in medical applications, and his international collaborations in pursuit of that data. Dr. Deyer also discussed how standardization of medical data (e.g., via public policy) would advance the use and effectiveness of artificial intelligence in medicine.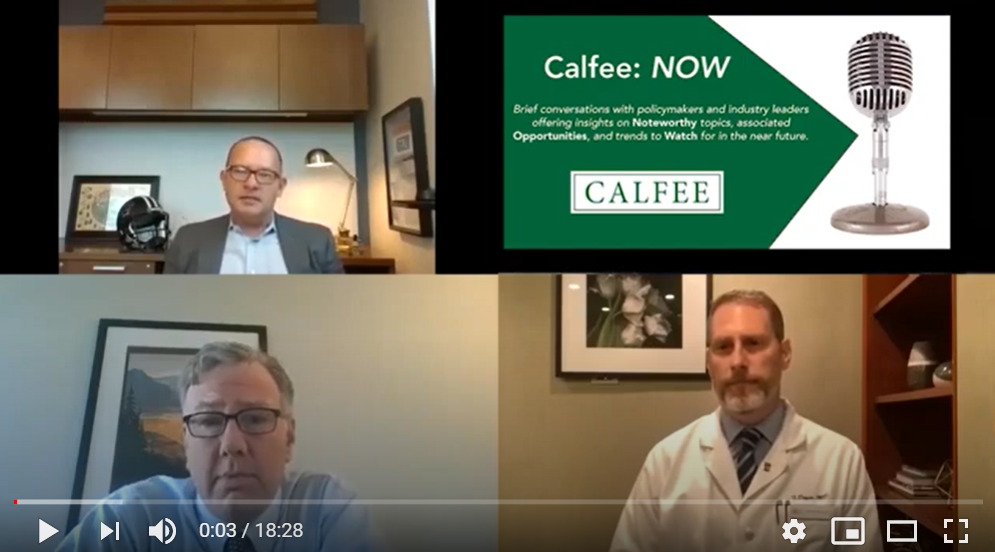 Watch the full episode.

View a transcript of this episode.
---

Calfee NOW episodes are brief conversations with policymakers and industry leaders offering insights on Noteworthy topics, associated Opportunities and trends to Watch for in the near future.
Subscribe to be notified when new episodes of Calfee NOW are released.
PDF
Media Contact
Susan M. Kurz
Chief Marketing & Client Development Officer
skurz@calfee.com
216.622.8346 (office)
513.502.8950 (mobile)
Subscribe to our Alerts
Professionals
Practices/Industries