PDF
Our Commitment
Calfee is dedicated to supporting an inclusive culture in age, gender, gender identity, religion, race, ethnicity, sexual orientation, physical abilities, marital and civil union status, military and veteran standing, socioeconomic background, and familial status. This inclusive work environment makes Calfee a great place to work and enhances our ability to provide exceptional client service.

Our commitment to valuing and supporting diversity as a critical cultural element in attracting and retaining talent and supporting business and industry growth expands beyond our firm. Calfee is a member of the Leadership Council on Legal Diversity (LCLD), an organization of more than 300 corporate chief legal officers and law firm managing partners working to build a more open and diverse legal profession. As of 2018, we are proud to have joined Ohio Business Competes, a non-partisan coalition of businesses committed to achieving non-discrimination policies at the state level.

The Firm's commitment also entails dedicating our time and efforts to investing in our community. Calfee employees are actively involved with College Now Greater Cleveland, a mentoring program for predominately diverse students with the goal of providing guidance and encouragement to graduate high school and get to and complete college. College Now's mission closely aligns with Calfee's continued pledge to community investment and improving diversity and inclusion in the legal industry. College Now's mission is to increase postsecondary educational attainment through college and career access advising, financial aid counseling, and scholarship and retention services.
Calfee attorneys have also volunteered with City of Cleveland high school students for 13 years as part of the Cleveland Metropolitan Bar Association's 3Rs program. The program connects lawyers, judges, law students, and paralegals with high school students in Cleveland and East Cleveland schools. 3Rs volunteers encourage an understanding and appreciation of the U.S. Constitution, as well as share important information about how students can achieve their goals beyond high school.

In addition, Calfee is proud to participate in the Columbus Bar Association (CBA) Minority Clerkship Program. The program is a collaboration of the CBA, The Ohio State University Moritz College of Law, and Capital University Law School. The program provides legal experience and education for African American, Asian, Hispanic and Native American law students through summer placement at local law firms, government and corporate offices. The program focuses on arranging clerkship positions primarily for 1st year students because a student's placement in a law firm after their first year of school increases their competitive advantage in vying for clerkships for the second more critical summer.
Meet Our Diversity Committee
Diversity Contributions/Sponsorships
Beyond the walls of our buildings, we actively support community-wide diversity and inclusion initiatives that allow us to contribute to the communities in which we work, live and play. They are:
Affinity Groups
The firm is committed to fostering a more diverse legal profession and community from which everyone will benefit. The unique qualities and backgrounds of each of our attorneys, paralegals and staff enhance the experience externally, as well, by bringing greater value to our clients. Diversity leads to creativity and innovation in problem-solving.
We encourage interaction across departments, practices and our offices. We also understand the need to have a confidential environment where attorneys and staff with similar backgrounds can come together to share experiences and forge relationships. This is where Calfee's affinity groups come in:
These informal environments are one way in which Calfee tries to enhance the experience at the firm for all those who work here.
Mentoring
Whether working with our clients or nurturing careers, at Calfee we believe in long-term investments, which is why we provide and encourage several different avenues of mentoring for our young attorneys, and especially diverse attorneys, to help build a strong sense of community.
Calfee Diversity Mentorship
Through our Calfee Diversity Mentorship program, we identify a first-year law student and provide them mentoring advice throughout their law school career. The program also gives them an opportunity to participate in our Summer Associates program the summer following their first year of law school.
To find out more about Calfee's involvement in this program, contact Hiring Chair, John McGuire.
Judicial Clerkship Program
We help sponsor minority law students in a judicial clerkship program, which is run by the Cleveland Metropolitan Bar Association. This program provides paid summer judicial externships to minority law students who have completed their second year.
To find out more about Calfee's involvement in this program, contact Hiring Chair, John McGuire.
Navigating Calfee
Calfee hires talented people who are at a variety of stages in their careers. For lateral hires, the transition into a new firm, or from a corporate or government environment into a firm, can be a challenge. We want to make this transition as smooth as possible and get new hires integrated into the Calfee culture, so we designed Navigating Calfee for those attorneys who may already have experience and know-how under their belts but need assistance finding their way through the inner workings of the firm. This program ensures attorneys meet people in a variety of practice groups through formal meetings and informal social gatherings to give each new attorney insight into our history, experience and culture.
To find out more about Calfee's involvement in this program, contact Associates Chair James Sullivan or Professional Recruiting Coordinator Kate Davis.
Mentors Within the Walls of Calfee
When attorneys start at Calfee, each is assigned a mentor, someone who shepherds his or her career growth. These mentors are not necessarily in the same practice area but have an interest in integrating new attorneys into the fold.
We also have a small-group mentoring program in which our attorneys are banded together with colleagues at the same stage of their career and mentored together by a group of partners on issues specific to where they are at in their career progression.
To find out more about Calfee's involvement in this program, contact Associates Chair James Sullivan or Professional Recruiting Coordinator Kate Davis.
Starting Early – Pipeline Programs
We believe it's never too early to get people interested in the field of law. That's why several of the programs Calfee is involved with focus on the development of high school students.
St. Martin De Porres Work-Study Program
Calfee is a corporate member of the St. Martin de Porres work study program and has been since the program's inception in Cleveland in 2004. Four students from the school job-share one full-time position at Calfee. This program allows high school students to earn money toward their education as well as exposing the students to a business environment. In addition, some students also have been offered full-time positions at Calfee following graduation.
To find out more about Calfee's involvement in this program, contact Director of Office Services, Ron Stupka.
3Rs: Rights, Responsibilities, Realities
This Cleveland Metropolitan Bar Association-led program partners the local legal community with high school students in the Cleveland Metropolitan School District (CMSD) and East Cleveland City Schools. Volunteer attorneys go to 10th grade social studies classes and use a real world curriculum to work with the students to enhance their knowledge of the rules of law and the U.S. Constitution, increase passage of the Ohio Graduation Test, provide career counseling and insights into possibilities after high school, and improve the number of minorities who choose legal careers in the region.
Shaw Mock Trial Team
Mock Trial participation offers high school students the opportunity to improve critical thinking, reading and public-speaking skills; deepen their understanding of the judicial system; and develop an understanding of legal rights and responsibilities. It also gives the students a sense of camaraderie, exposes them to competition and team environments, and offers students a safe place to spend their time.
Calfee attorney, Jim Lawniczak, had taken a defunct program at an inner-city high school and, in eight years, turned the team into district champions seven times over and state contenders multiple years. He and the Shaw teacher who coordinated the program, Ms. Eiller, had more than 100 students participate in Mock Trial since its reinception.
Recruitment
We solicit diverse candidates for on-campus and lateral attorney interviews, and also participate in diverse recruitment and community outreach programs. Learn more about Careers at Calfee.
Supplier Diversity
Calfee is a very involved consumer when it comes to support for Women and Minority-Owned Business Enterprises (WMBE) suppliers. Since first being invited to join in 2005, Calfee has been an active participant in The Commission on Economic Inclusion, an affiliate group of the Greater Cleveland Partnership. To become a member, the firm had to both monitor and increase our annual supplier diversity spend. We are proud to say we have increased our annual diversity spend by as much as 50 percent since becoming affiliated with the commission. We have been recognized as a community leader (among service providers) several times for our continued improvement in working with diverse suppliers.
In addition to requiring our vendor prospects to identify on their applications if they are minority or women-owned, we also have retained the services of Supplier Gateway, a local Minority Business Enterprise (MBE) that specializes in finding and verifying qualified diverse suppliers.
Every year, we review and continuously look for ways to increase our spend with minority and women owned businesses. Calfee regularly attends business opportunity fairs sponsored by the various minority business associations and chambers of commerce such as the Ohio Minority Supplier Development Council, Northeast Ohio Hispanic Chamber of Commerce, and Plexus, the Northeast Ohio LGBT chamber of commerce.
Black History Month 2020 Programs
As part of the firm's continuous commitment to promote diversity and inclusion initiatives in the legal profession, Calfee hosted numerous programs and events honoring and celebrating Black History Month (February) 2020.
2020 Northeast Ohio Summit on Diversity in the Legal Profession
The firm hosted its inaugural 2020 Northeast Ohio Summit on Diversity in the Legal Profession with the support and participation of the Leadership Council on Legal Diversity (LCLD). Calfee clients, business and legal leaders, law students, and law school leaders in Northeast Ohio attended. LCLD President, Robert Grey, served as Keynote Speaker and panel facilitator for this event, which featured 12 panelists from local law schools, corporate legal departments and law firms. Topics included: "Following the Legal Pipeline – A Deep Exploration of What's Working and What Needs To Be Fixed To Achieve Equity, From Law School Application Through Hiring" and "Equalizing Opportunities for Diverse Lawyers – Tearing Down Barriers and Actively Facilitating Achievement."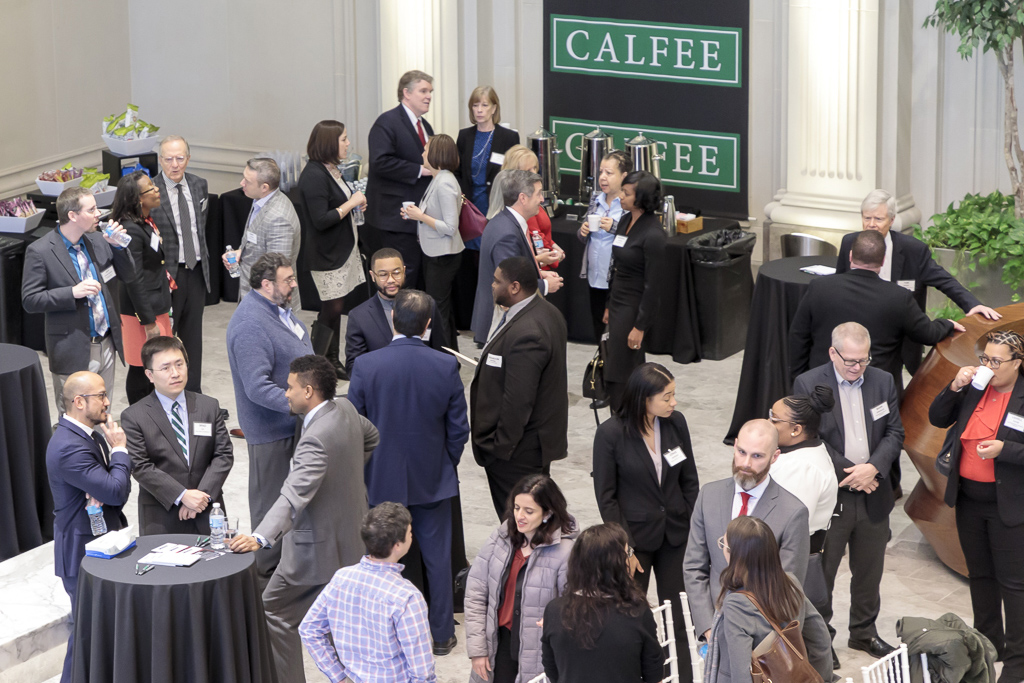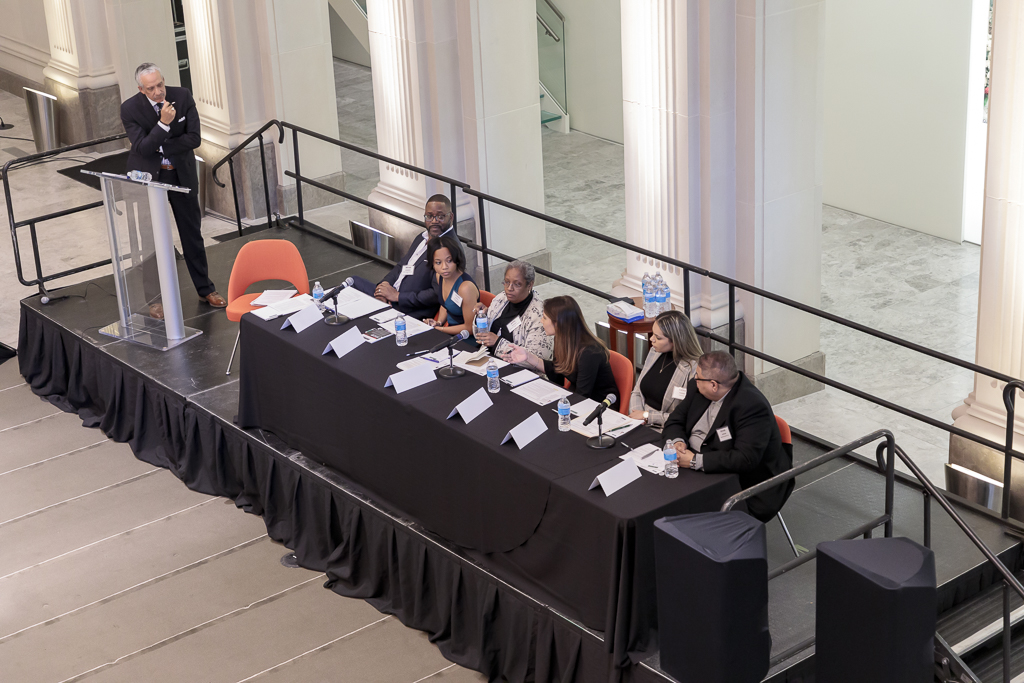 "BLACK YOUTH [Avant-garde]" Art Exhibit Displayed in Calfee's Cleveland Office
Calfee commissioned Shooting Without Bullets to curate an art exhibit to be displayed in Calfee's Cleveland office during the month of February. The "BLACK YOUTH [Avant-garde]" exhibit was conceptualized by several African American youth artists associated with Shooting Without Bullets, a for-impact, nonprofit organization that works to eliminate systemic barriers that prevent young black and brown youth from thriving. Utilizing an art-as-activism model, the organization develops and elevates the youth artistic voice in order to shift policy, perspective and culture.
The artistic activism exhibit was specifically curated for display in Calfee's Cleveland building, and it portrayed what black and brown youth are looking forward to in the next decade in connection with revered black history. The exhibit visualized the six intellectual faculties of memory, imagination, perception, intuition, will and reason. Drawing upon African-American history and Avant-garde art, the work sought to broaden society's understanding of the lived experiences of youth of color in Cleveland and connect their bold artistic activism to artistic movements of the past that pushed boundaries of creativity, ideas and society. Images from the exhibit can be found below. (BLACK YOUTH [Avant‐garde] Exhibition by Shooting Without Bullets. Photo credit: Rustin McCann)
Calfee employees and families were invited to attend the art exhibit opening reception for the Shooting Without Bullets' teen artists and their families and friends. Five young artists who contributed their commissioned artwork for the "BLACK YOUTH [Avant-garde]" exhibit took to the podium to explain their artistic vision and toured the exhibit with reception guests.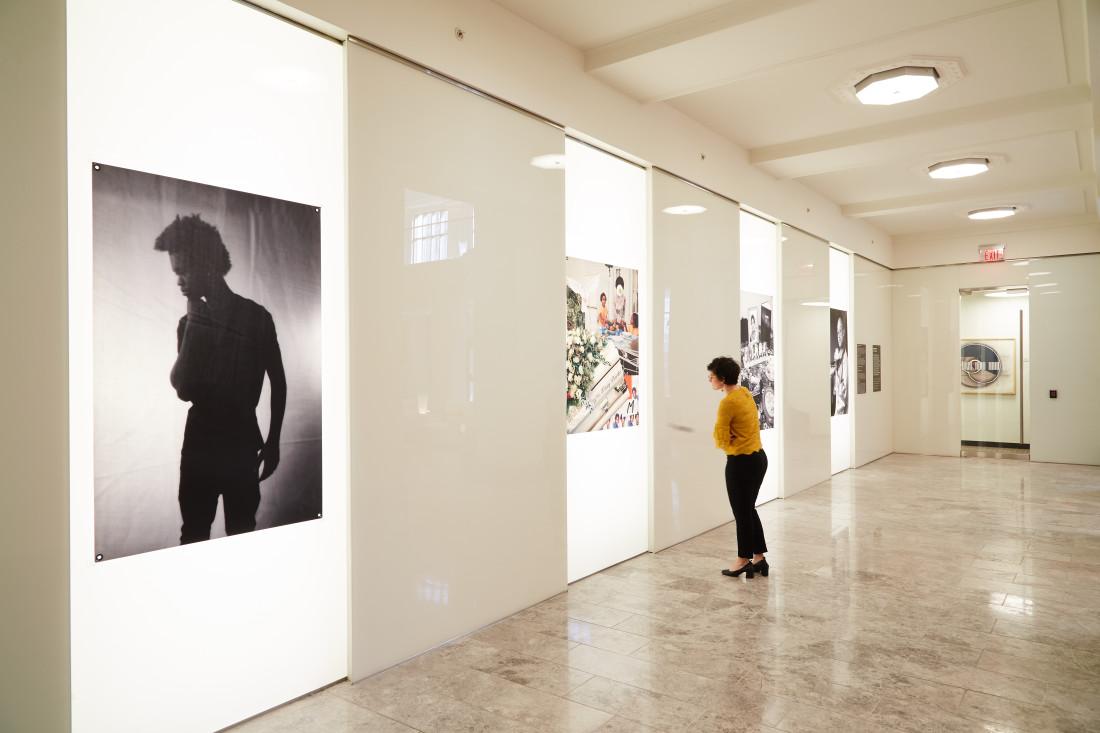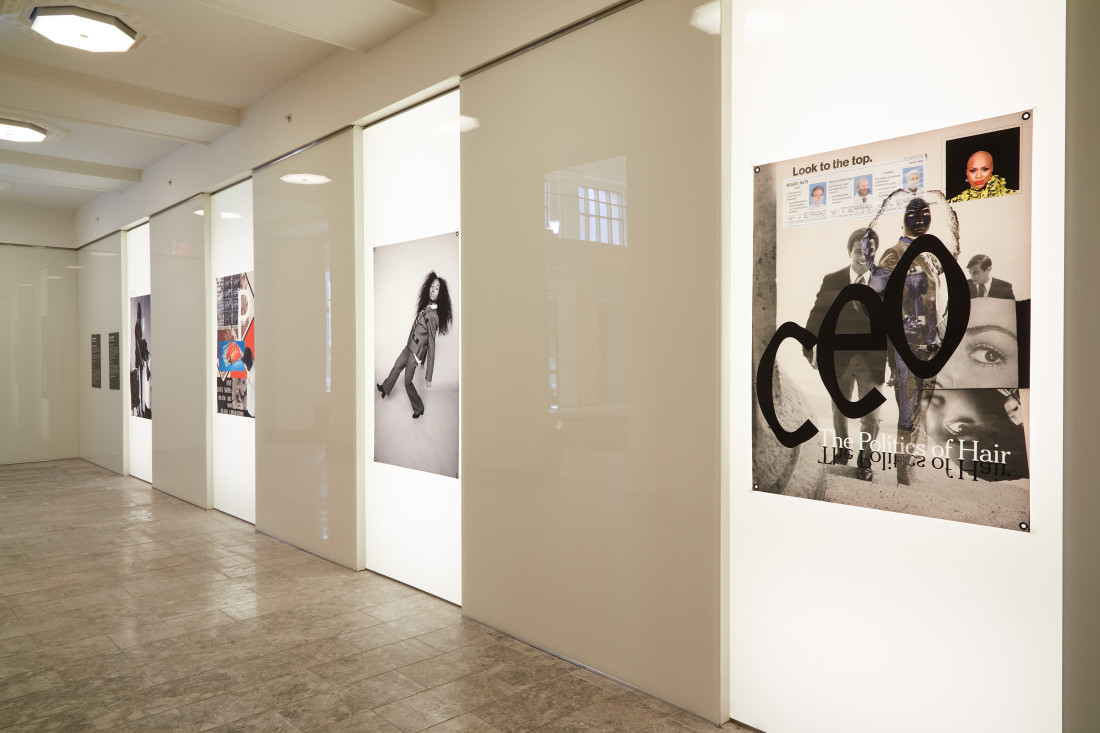 "UNDEREXPOSED" Documentary Viewing
Calfee welcomed Amanda D. King, J.D., Founder and Creative Director of Shooting Without Bullets and co-producer of the documentary, "UNDEREXPOSED," to join the firm for a Black History Month lunch program held in Cleveland and simulcast to all of Calfee's offices. The program featured the viewing of the 20-minute documentary short, "UNDEREXPOSED," which brings visibility to the black youth perspective in Cleveland and chronicles the lives of 10 teen artists as they find solace in art-making and performing as members of Shooting Without Bullets. In addition, Ms. King and several of the youth artists who were featured in the documentary, shared their experiences with the Calfee audience and answered questions about their organization, its mission, and their experiences as artists in Cleveland.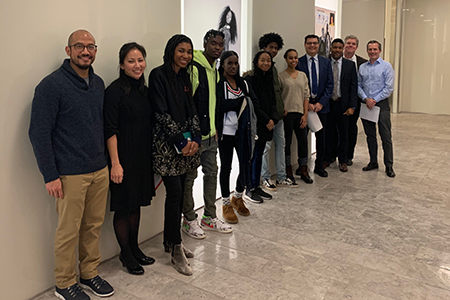 Calfee "Friday Jeans for Charity"
Calfee attorneys and staff "purchase" a pass each month in order to wear jeans to work on Fridays. Money collected from the jeans pass purchases are always donated to a charity chosen by members of the firm. In honor of Black History Month 2020, the firm's "Friday Jeans for Charity" contributions for the month of February were donated to Shooting Without Bullets to help support their mission to eliminate systemic barriers that prevent young black and brown youth from thriving.